Telecom26's Global SIM cards provide connectivity on 1100 cellular networks from over 650 mobile operators in more than 200 countries.
17 May 2023 – Telecom26 today announced that it is providing global connectivity – including maritime connectivity - to Stream Ocean, an environmental technology company which is helping to save the planet's coral reefs and the fishes, plants and other marine life that rely on them.
Stream Ocean's underwater cameras and computers record what is happening below the water's surface and are connected by cable to a solar-powered connection tower. From here the data and images collected are transmitted to Stream Ocean's server in the cloud, so that it may be shared with ocean stakeholders from all around the world including The Maldives, Caribbean, Australia, Indonesia and Spain.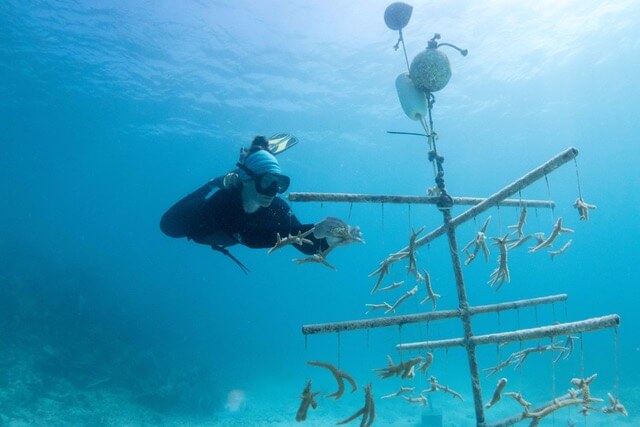 Stream Ocean will continue to use SIM cards from local operators but realised that it needs additional connectivity for when the tower is beyond the coverage of the local operator.
After conducting a thorough search for a global connectivity provider, Stream Ocean chose Telecom26. One of the features provided by Telecom26 that Stream Ocean is impressed with is its SIM management portal which provides real-time information about SIM usage, coverage and costs per SIM and per country.
Telecom26's Global Mobile service is compatible with 1100 cellular networks from over 650 mobile operators in more than 200 countries and territories. It is also a well-established global maritime cellular operator which provides bespoke maritime and marine communications services across the globe to vessels of all sizes from leisure yachts to fishing boats to container ships.
David Lunsford, CEO of Stream Ocean, said "We need information gathered from underwater to be transmitted in real-time to enable immediate analysis. Local SIM cards are fine usually although we have projects in locations where internet connectivity can be challenging. Thanks to Telecom26, we know we have a reliable global partner whose team are happy to share their experience and expertise".
Nicola Berardocco, CEO of Telecom26, said "The importance of Stream Ocean's work is immense. Half of the world's coral reefs are threatened by 2035 if nothing is done to mitigate the climate crisis. We are happy to be playing a small part in trying to save them".
Telecom26's maritime services include:
A full Cellular At Sea service for vessels
A Nearshore Connectivity Service which uses land-based cellular networks that reach up to 30km out to sea
A Maritime IoT Service including private networks on-board vessels, oil rigs and platforms
At the heart of Telecom26's maritime services are global SIM-eSIM cards that enable devices on-board moving vessels to automatically access and switch between multiple networks both in-country and across borders thus removing the need to worry about the coverage of a single MNO, or the existence of roaming alliances.
About Telecom26
We're an independent, global mobile operator with our own network core and operational assets leveraging relationships with more than 1100 network connections and 650 mobile operators to secure unrivalled global coverage.
We offer a full range of telecom services and connectivity options including 5G (where available), LTE-M, WiFi, private networks, 2G, 3G and 4G, as well offshore connectivity capabilities.
Our customers include enterprises, OEMS and NGOs who want a single delivery partner, cross-border solutions and network coverage that is secure, resilient and can be tailored to meet specific and evolving needs.
Founded in Switzerland in 2012, Telecom26 is an Operator Member of the GSMA.
For more information, please visit
https://www.linkedin.com/company/telecom26-ag/